FastPictureViewer 1.0.115.0 is available
Posted:
Sun Nov 08, 2009 9:01 pm
Notable new features and changes:
For those users unable to use the hardware-accelerated display mode available in FastPictureViewer, the program now uses a better (but slightly slower) resampling algorithm when "high quality" is selected

and

the GPU acceleration is disabled (in DirectX hardware-accelerated mode, the pixel smoothing is governed by, and made to the best of, the display card's abilities). The new algorithm produces substantially less resizing artefacts at reasonable speed expenses.


Added a large-size XMP information head up display, following a forum suggestion, with large star-rating display and numeric rating/label/urgency: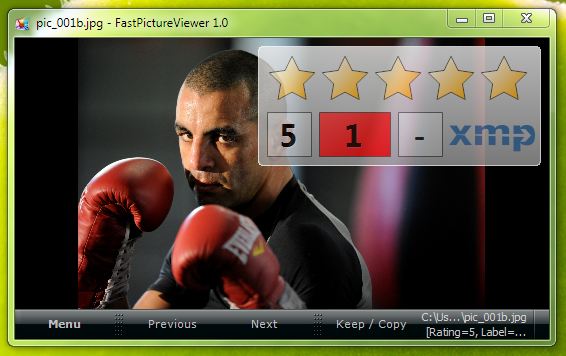 The image above is a screenshot of FastPictureViewer 1.0 (115) displaying a 12.1MP image (taken with a
Nikon D3s camera
at 6400 ISO!), and reduced on-the-fly to fit the tiny window size by the new software algorithm mentionned above.
The new version is available now from the
download page
.